Many years ago, before I started running, I would dream about going on vacation and having fitness as an integral part of the plan.  I moved to a new house and dreamt that I would start a weekend running group that would meet to run around the lake.
I'm one of those who believes that if you really want something, it manifests.
Both these fitness desires have manifested for me right at the beginning of this year!  Last year around this time an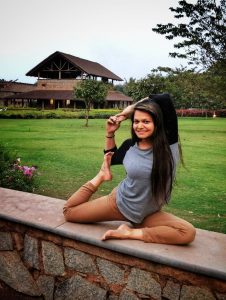 old acquaintance of mine moved back to Bangalore and started coming to class.  Somehow the bond grew deep and when I tentatively suggested we go to Lovedale for a run, to my utter surprise I said yes.  We got two more friends together, another student offered us his cottage, I tanked up my car and off we drove into the hills.  We spent three days re-visiting the hills and exploring new joints.  We bought comfortable pajamas at the factory surplus shops.  I bought some Eucalyptus oil.  The night before what would become our first 10km, we affirmed to ourselves that we would complete the run successfully.  We would give it our 100%.  In the morning as soon as we woke up, I said, 'We shall do it.'  And we did!
From the 4 of us who went to Ooty, to the 12 who went to Hampi last weekend, we have grown consistently.  Hampi was our fifth run together and we got special bibs and tees with our names on it.  It may seem like a small achievement, but to those of us who get together every weekend to pound the pavement, it was a moment to be proud of how far we've come.  To change old habits and adopt a new lifestyle is no mean feat.  And what they say is true – nothing tastes as good as fitness feels.