Group Classes (Online Only)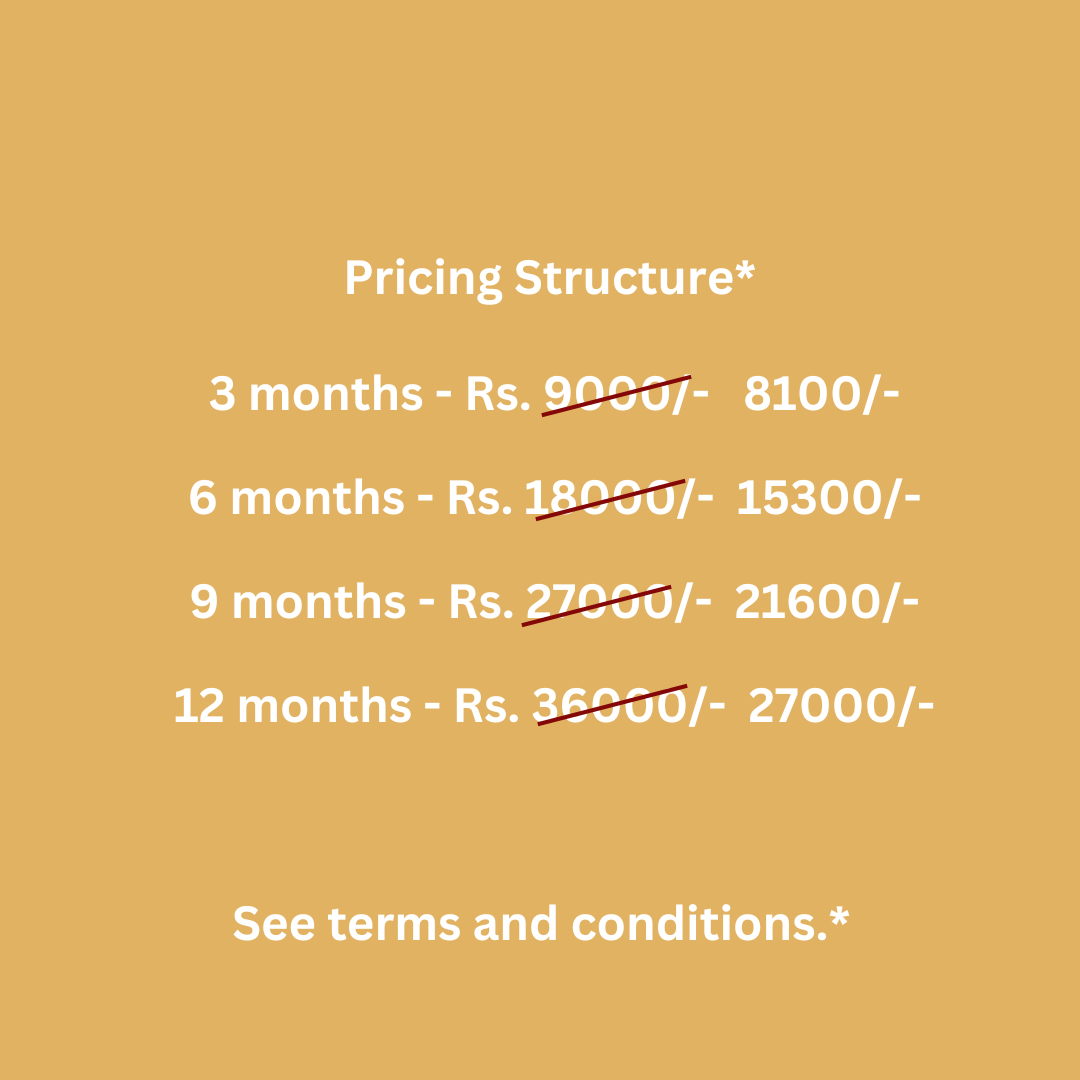 Group classes are suited for all levels including beginners of yoga and are 60 minutes long.  These classes focus on improving your health systematically.  Group classes help you stay on track with your yoga practice.  They are a great way to bring more regularity and consistency to your health and self-care routines.  The online format enables you to save travel time and attend from anywhere.
Here is a video describing the classes.
*Classes happen every day.  You are required to attend only three classes a week, as per your convenience.
T&Cs
Fees are non-refundable.
Membership can be paused only for registrations of minimum 3 months.
Pause terms and conditions:

Should be informed in advance.
Maximum duration is 2 weeks.
The number of pauses allowed depends on the duration of your plan.

3 months – 1 pause
6 months – 2 pauses
9 months – 3 pauses
12 months – 4 pauses
Private Classes (Online/Offline)
Private sessions are available for those who have specific needs/ailments or whose schedules don't permit attending the group classes.  I design these classes for students keeping their individual health and fitness goals in mind.  Click here for testimonials from students who have benefited from my private sessions.
T&Cs
These classes will be scheduled at a mutually convenient time and are of 60 minute duration.
Classes happen twice a week and students are required to practice on their own.  Offline classes happen in my home studio.
No minute cancellations allowed, please inform about schedule changes in advance so that I can accommodate others who need a class.
Charges for private classes depend on the goals and requirements of the student, and vary from student to student.
Please email me at pragya.bhatt@gmail.com if you're interested in private sessions.
Prenatal Classes (Online/Offline)
A few yoga classes a week is a great addition for expectant mothers.  Yoga is known to reduce stress levels, relieve lower back pain, improve quality of sleep and also helps in improving the strength and flexibility of the muscles required in childbirth.  In my experience, even those who have never done yoga before can reap the benefits of starting yoga during pregnancy under an experienced teacher.
Please email me at pragya.bhatt@gmail.com for prenatal yoga classes.
Upcoming Retreats/Events
Shakti Kumbh – Rishikesh (01 Mar 2023 – 02 Mar 2023)
I'm elated to be presenting my work on the Yogini Cult at the first ever Shakti Kumbh festival being held at the Parmarth Ashram.  My friend, Sowmya Ayyar, and I have curated a session based on our intellectual and spiritual research into the Yogini Cult of India.  Here is a description of our session.  For more information and to register please click here.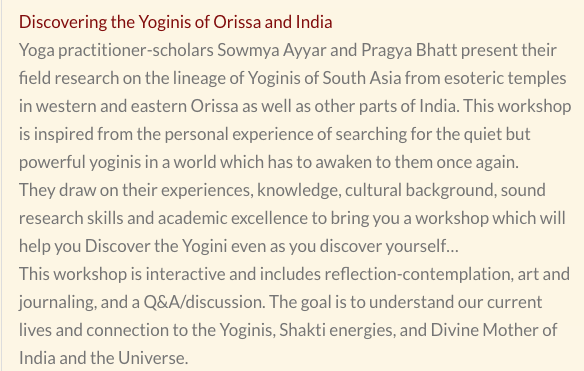 FAQs
1. Is there a trial class?
No, there are no trial classes.  During the lockdown I recorded more than 60 classes, and these are available on Youtube.  Please go through a few recordings, they will give you a good idea of the structure, pace and style of the classes.
2. Are the props mandatory?  Why do I need them?
Yes, props are mandatory.  My classes are more than just asana classes – in every class you will be strengthening your mind-body connection.  Using props gives students a renewed sense of empowerment about themselves and their bodies.  Moreover, working with props helps in gaining a more technical understanding of the asanas, so students won't blindly push themselves into postures, but work with an understanding of their strengths and weaknesses.  This ensures few injuries and longevity of the yoga practice.
3. Which props do I need?
You will need the props below.  Click to watch a short explanatory video about each of the props.
4. Are the fees refundable if I can't make it to class?
The fees are non-refundable, however, you can make up for your missed classes by coming to another session within the month of registration itself.