My tryst with running started a decade ago in the Infosys gym.  It was called Chisel and they played peppy music.  We were only allowed 15 minutes on the treadmill at a time.
At the end of 2006 I was onsite for 6 months.  Days in Ipswich were dark and cold. I walked into the office in the dark and by the time I left it was dark again. I would arrive early – workout at the gym and then head to my desk.  Over the weekends I would brave the biting cold and go running before my roommates were up.  I used to joke that I was the only brown person running on the streets of Ipswich.
Now it's been more than a decade of running.  While not a member of any running club, I have participated in quite a few runs, even making it to the Hall of Fame of the Go Heritage Runs!  I enjoy running now, but it wasn't always so.   When I think over all these years I realize that there are a few things that helped me in inculcating the habit of running into my lifestyle.  Hopefully some of these will help you too.
1. Designate a day.
For me it's usually Sunday.  Having a specific day ensures that you get to it.  If I want to go out with friends I'll do it on Friday night.  Even if I go out on Saturday, I'll come home early and make sure I'm up for my weekly run.  If you don't designate a day, you'll end up postponing your runs indefinitely.
2. Pick a uniform.
Over the years I've realized that I tend to gravitate towards the same purple ASICS tights and pink Nike running top.  They fit well, keep me warm and I love the way they feel!  It can get embarrassing also, like when I wore the same thing to the Go Heritage Run in Srirangapatna and Ooty, which were a few months apart.
3. Don't compete.
I've seen a lot of new runners trying to compete with the seasoned ones in terms of timing and distance.  They're just setting themselves up for failure.  Running requires dedication, devotion and consistency.  And rhythm.  Focus on cultivating your own unique, sweet rhythm.  Once you discover this rhythm, you'll be doing long distances easily and blissfully.
4. Choose a good playlist.
For me this is essential.  The wrong music slows me down and bores me.  Something bright and peppy keeps me going.  I also love a touch of seasonal favorites.  These days a few Christmas-y songs, in two months a few love songs.  I generally use Gaana or Wynk.
It's nice to be able to track how much you've run.  You can pace yourself, see your route, and even compare your runs with previous ones.  It gives me a sense of accomplishment and also encourages me to run more.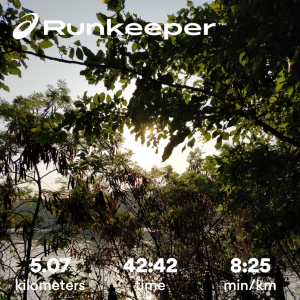 Admittedly, the first few Sundays will be hard, but once you get into the swing of things it will become a habit.  You will relish calm Sunday mornings when everyone is asleep and you get to watch the city waking up, enjoy the sunrise.  You haven't enjoyed breakfast unless you've had it after a solid 5 km run.  Do yourself a favor and in 2020 spend one morning a week running and see how just one day can transform the rest of your day.
Last year I wrote this blog after my first 10 km run.  I talk about how I manifested a life full of vibrant good health and a focus on fitness.  Looking at the photos fills me with all the nostalgia in the world!
Now if you'll excuse me, I'll go for an evening run!