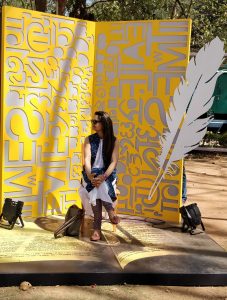 Over the Diwali break my little sister sorted out her clothes. She made piles of clothes to discard and those to give away. I chose a few things I thought I could use. Afterwards we went to the Ambience mall and she donated the clothes to the H&M recycling drive.
I'm in the midst of sorting out my clothes too. Memories arise unbidden into my mind, as I sift through them. The skirt my sister said was perfect for a yoga instructor, that unbelievable bargain at a sale. The cozy sweat pants I reach for when Bangalore is cold and rainy, the sequined rose-gold skirt I look forward to wearing during the festive season.
Our evolution as individuals can be marked by changes in our sartorial choices.
Twenty years ago, in 1999, I was a senior at the American International School Dhaka. We had moved to Dhaka from the US and my clothes comprised of the usual teenager fare of jeans and tees bought at Nordstrom, Contempo Casuals, even Sears and Macys. In Bangladesh my mother bought yards and yards of handwoven jamdani saris. As my friends got ballgowns stitched for the senior prom, my mother and I scoured the markets looking for that perfect off-white chikankari fabric which the darzi transformed into a beautiful shalwar. Years later and many kgs lesser, that shalwar started to look like a bag on me, and I reluctantly decided to gave it away to a maid. But as I wistfully fingered the border of the dupatta – I had the tailor line the edges with the same chikankari fabric – I resolutely tucked it back into the depths of my trunk, where it remains to this day.
The years 2000-2004 were spent in a tiny hamlet in northern India. My college years were defined predominantly with a sense of displacement and a visceral rejection of surroundings I couldn't/wouldn't adapt to. I would not obey, I didn't care about assimilation. I admired only the art. And so I drank in the colors of patiala salwars and got many stitched for myself. For graduation and other formal events, I, like the other girls, dived into my mother's collection of beautiful saris. If there was a gene for being a clotheshorse, my mother would be its original carrier. She has trunks full of the most exquisite silks, the purest french chiffons, diaphanous cottons. I was allowed to borrow only certain saris – but to me those were the most beautiful threads to ever adorn my body.
Once I finished college and entered the corporate world, Company Policy started influencing my wardrobe. Highly forgetful formal shirts and pants. Unimaginative cuts, fits to shroud you in conformity. I felt trapped, and creatively stunted and my wardrobe was a reflection of that. When I decided that this life was no longer for me, I remember letting my younger sister have her pick of the clothes, while the remaining went to charity. It was as though by banishing those clothes from my armoire, I was emphasizing my decision to never return to the world of countless excel sheets.
The gap left by my work wear soon started filling with workout wear. I wore a lot of track pants before I realized that I like black tights the most. Not the moisture wicking, dri-fit variety, but of the more unpretentious cotton kind. During my daily practice/teaching, I don't want to be distracted by flashes of colors or eye catching designs.
As I continue to go through my cupboards, I realize my wardrobe is now an amalgamation of all the influences in my life. Long basic dresses that my sister no longer feels she identifies with, a beautiful hand-stitched tie-dyed skirt picked up at a garage sale, a salwar-kameez stitched by the tailor my friend discovered when she was 17. Bargains found in the racks of Forever21 sales. Fabrics sourced from artisans at craft fairs, material from Pune's vibrant Lakshmi Road, whatever catches my fancy at Malkha. My kurtas are long, flowing and light. My collection of 100-odd saris, enviable.
Clothes are perhaps our first form of expression. Even those of us who aren't interested in what we wear make a decision about what to wear – and that decision is an expression in and of itself. Our cultures define the tone of festive clothing, clothes for mourning, clothes for the bourgeoisie and those of modest means, those in a penitentiary and for heads of state. Clothes you'd wear to a wedding and those you would wear to the Seychelles. Clothes to wear to the cinema, to the opera and for the weekly Netflix and chill.
Perhaps the only statement more powerful than choosing what to wear is choosing not to wear anything at all.
[WORDS DO MATTER! This post is written for the 3rd edition of #WordsMatter linkup hosted by Corinne, Parul and Shalini. The prompt for this edition of #WordsMatter linkup is '20 years ago']
I received this tag from Reema from The Write World (https://reemadsouza.com/). It's my pleasure to pass on this tag to Anamika Agnihotri at https://thebespectacledmother.com/. There are 29 of us on this Blog Hop and it is spread over 3 days – 1, 2, 3 November 2019. Do follow the #WordsMatter Blog Hop, you'll love our musings!