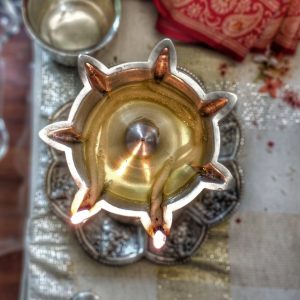 Faith is abstract.  Its manifestation is concrete.  Ganesh Chaturthi is a good time to witness faith.
In my friend's house the festive season has already started.  It starts with Ganesh Chaturthi.  For the entire 5 days that the Ganesh idol sits in their house, they celebrate.  People visit, good food is cooked, everyone laughs.
The house gets a face lift
enthusiastic dusting for every surface
the twinkle of the silver pooja-thali
bright new cushion-covers,
fresh flowers every day
the smell of incense wafting through the rooms.
aarti together in the evenings
Ganesh departs to go back to Mount Kailash after 5 days (or 3 or 7).  His mother and sister stay on as guests in your house.  For three days.  They are the harbingers of health, wealth and good luck.  People believe it to be a great privilege to host Gauri and Parvati in their house for they bring with them the power to fulfill your innermost desires.
Can we soften and allow powers beyond us to manifest our innermost desires?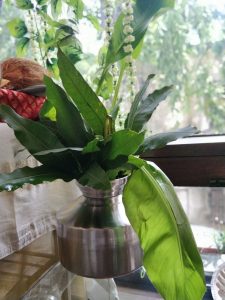 Here's a blog from 2016 when I visited all the famous Ganesh pandals in Pune.