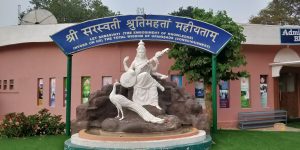 I recently enrolled for a Master's program in yoga studies.  I went back to SVYASA (Swamy Vivekananda Yoga Anusudhana Samsthana).  It is a university dedicated exclusively to yoga and holistic health.  In 2012 I registered for their YIC (Yoga Instructor's Course) never dreaming that in 2019 I would be back for a masters.
Two months ago I went to the university to attend a few lectures.  My days there were reminiscent of my Infosys Mysore training.  Until now yoga has largely meant asana practice for me.  Philosophy is intimidating.
I think this master's program may just bridge the gap for me.  The faculty at SVYASA comes with a long list of achievements and experience.  All the members are well-known experts in their chosen area of study.
Our Yoga Therapy professor, Dr. Uma gave us some enthralling lectures.  She lectured on the importance of an integrated approach to health care.  One day the discussion turned to vegetarianism, veganism and other lifestyle related food choices.  She told us about her personal conflict with milk.  For years she had adamantly supported the consumption of milk.  She holds an MBBS, MD as well as a BHMS.  Milk is a panchamrit (five elixirs). However, latest research shows that milk is not good for you.
"Then I realized that milk as we know it now is not the milk Ayurvedic texts are talking about.  The cows, the environment, the people were different, and so the milk was also different.  Now I don't have milk."
"Nowadays disseminating information is easy.  You will find 100 opinions on everything under the sun.  What to eat, when to eat.  What to drink, when to drink.  Why to eat, why not to eat.  Why to drink and why not," she said.  "You must not listen to everything.  Find what resonates with you.  What do you believe in-spite of all the information that you are being bombarded with?  You must cut through the noise and find your center."