On the way back from our recent vacation in Coorg, we decided to take the road less travelled.
Our First Stop – The Maṭha Temple at Shravanabelagola
The road was scenic, bucolic and mostly under construction.  We crossed a flower market and picked up some jasmine for our hair.  And finally, looking at the map we decided to take a small detour to Shravanabelagola.  Shravanabelagola is one of the most important Jain pilgrimage sites in the world.  It is marked by the presence of a 58-feet tall statue of Bahubali.  I've been to Shravanabelagola before and trekked all the way up to the deity.  This time we were hard pressed for time and couldn't do that, but there was another delightful surprise in store for us.
The Jain maṭha that maintains the temples in Shravanabelagola (including the Gomateshwara) also has its own temple, which we visited.  I saw some incredible murals on the wall.  I hope the maṭha restores them in the future.  For now, they've put up barricades to discourage the poking of curious fingers.
Some of the murals: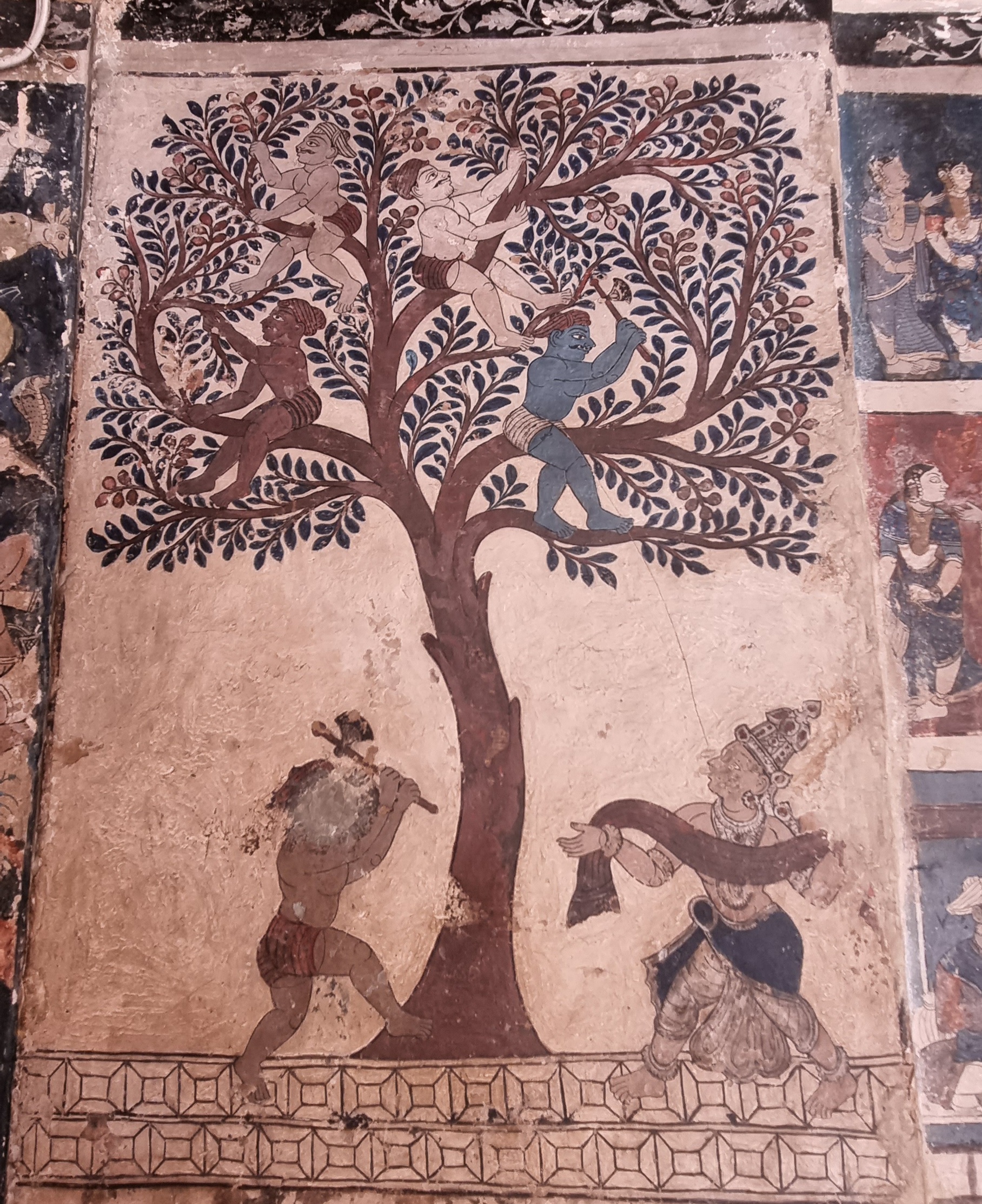 National Institute of Prakrit Study and Research (NIPSAR)
It is no coincidence that NIPSAR is in Shravanabelagola and is also a major attraction for Jains and scholars of Jainism.  Most ancient Jain literature is in Prakrit, and this institute was established for the study of Prakrit.  It houses many manuscripts, most of which are more than 500 years old.  I was very interested in seeing these manuscripts as I had only seen pictures of original texts but had never actually seen one in person.
We were well received at the institute by a few of their scholars, who proceeded to give us a tour of the institute and show us the original manuscript of the 'Gurudev Charite', which was from the 10th century.  Along with this they showed us the restoration and translation work that is currently underway of the 'Trishashti Lakshana Mahakatha' – a collection of talks about the Jain tirthankaras.  The 'Trishashti Lakshana Mahakatha' is also known as the Chavundaraya Purana and was written by Chamundaraya.  Chamundaraya was a military commander, a poet, an architect and a statesman, who lived from 940 CE to 989 CE.  He commissioned the building of the statue of Bahubali found in Shravanabelagola.  The Trishashti Lakshana Mahakatha is the second oldest existing work in prose in Kannada.  Chamundaraya meant for this work to be read by the masses and therefore wrote it in Prakrit and ensured it was easy to read by the masses.  It relates the legends of a total of 63 important figures in Jain history.

Importance of Sanskrit/Prakrit for Yoga Seekers
Although I've always been interested in yoga philosophy and texts, its only recently that I've started to contextualise it.  This was partly due to the exposure I got during my master's at SVYASA (studying the Hatha Yoga Pradipika and the Patanjali Yoga Sutras in a cultural context).  Hence, my interest in not only yogasana but also in everything (peripheral) about yoga.  I found that the more closely I look at the society and culture surrounding the practice of yoga, the more insight I gain into the subject.
When I started studying Vedanta, I realised that the Sanskrit I learned  at SVYASA came in handy.  Although numerous English translations and interpretations of yogic texts are available, to be able to read the original script forges a connection that is highly empowering.
It's hard to describe what it feels like to hold such ancient literature in your hands.  It's not only what you're holding, but the fact that this is intimately connected to something you've been immersed in for a decade.  Which was another reason why I was so keen to visit NIPSAR.
So do you need to learn Sanskrit/Prakrit if you're interested in yoga?  In my opinion no, but if you do then you'll be privy to a whole new dimension of the subject.