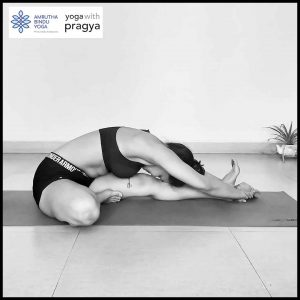 Janu means the knee.  Sirsa is the head.  In this posture sit with one leg stretched out on the ground and the other bent at the knee. (Light on Yoga, p148)
The Janu Sirsasana is my go-to pose when I want to do a more restorative and relaxing practice.  In fact, Geeta Iyengar has included it as an important asana for women during menstruation (Yoga: A Gem for Women).  This is because not only does this posture help to relax the mind, but it also helps to soothe feelings of restlessness and irritability.
Other benefits of the Janu Sirsasana include:
Relieving chronic headaches and migraines.
Helps to relax the eyes and the mind.
Reduces menstrual cramps.
Regulates menstrual flow.
Gives a great stretch to the hamstrings and calves.
Stimulates digestive organs.
Janu sirsasana is usually practiced daily by most practitioners.  I personally prefer a supported janu sirsasana so I use practicing it with props.  There are many different ways you can use props to make this asana feel more relaxing.  Watch this video to see how to do that.
Participate in our Work From Home Challenge this entire month and win a giveaway at the end of the challenge.  Download our practice tracker and asana sequence below:
Download Practice Tracker
Download Yoga Sequence
For more information go to:
Medha Bhaskar: https://www.instagram.com/medha.bhaskar/
Amrutha Bindu Yoga: https://www.amruthabindu.com/
Pragya Bhatt: https://www.instagram.com/yogawithpragya/