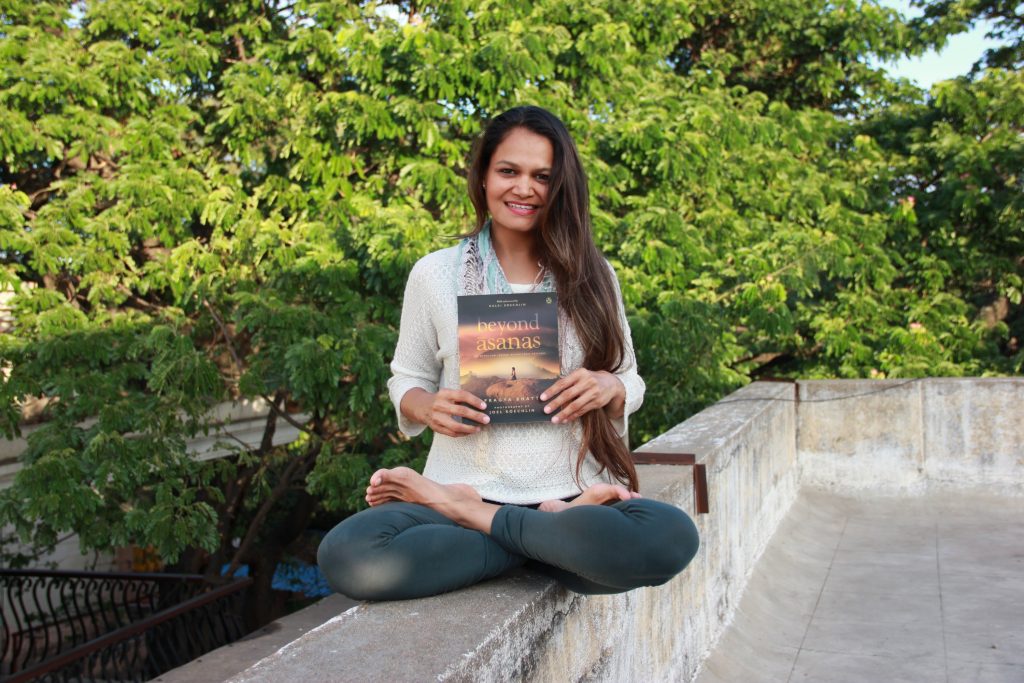 This week started out with me being all writerly.  Many of you don't know that I have a humongous  collection of saris.  Yet the only thing I wear most frequently are my yoga pants.  So it was refreshing to attend the Guru Purnima celebrations swathed in six yards of elegance.  And since I was presenting my teacher with my book on the same day I thought let me make it a Kodak moment and the result was the first Instagram update for the week.
I'm still pinching myself about what a wonderful year this is turning out to be.  Last year if you'd told me that next year by this time I would have conducted a yoga retreat in Italy, I'd dismiss you as senile.  My book was in the pipeline, but I was immersed so deeply in editing that it ever seeing the light of day was almost mythical.  The second update for the week saw me thinking about my unconventional journey and the twists and turns that it's led me on.  With no roadmap the only thing I've relied on to get to this point is my gut instinct and also blind trust on whoever wants to massage my ego!  This picture was taken when my sister Ana, cousin Ishani and I were roaming the streets of Imperia trying to find Susanne and Stephanie (with whom we were going to head to Liguria).
The 25th of July is Abhijata's birthday.  In 2016 I went to Belur to attend an Iyengar yoga workshop for the first time.  Abhijata was there along with Birjoo and Rajvi Mehta.  I was nervous about speaking to Abhijata, but my classmates egged me on.  And I finally did, thinking I'd like to remember myself as courageous enough for a 'no' rather than the coward who didn't even dare.  It was now or never.  Abhijata not only told me to write to the institute keeping her in the loop but also answered a few of my questions.  I did a blog on it and later put together a YouTube video.
And I ended the week with updates about my first book event for 'Beyond Asanas'.  The event is called 'Feeding Body and Soul – A Book Talk.  It is being hosted by Carrots Restaurant and they even curated a special menu for it!!! The menu included: Melon Mint Gazpacho, Raw Beetroot Ravioli with Herbed Cheese and Cilantro Hummus with Baked Lavash Chips.  Exciting stuff!!!  The first event was on Sunday evening and I spoke about my personal journey, why yoga, how I went about writing the book etc.  It was an open, free-wheeling discussion and I look forward to doing the event again on Wednesday the 31st of July.  Fingers crossed that this is the first of many book events. 🙂