Today we had the privilege to have Susanne Mayer as our guest teacher.  Susanne's session was called Hands & Feet in Yoga.  The hands and feet are the base in all asanas, and we hardly pay attention to their placement and positioning.  When practicing asanas our attention moves to the gross body, and we rarely think of the seemingly 'unimportant' aspects of the asana. During the session we learned how to use our hands and feet to bring stability to our asanas and used blocks to understand them more.  Below is a recording of the class, since I know many of you will want to follow along.
I met Susanne about 4 years ago at RIMYI (Pune) and last year we hosted our first yoga retreat together in Liguria, Italy. Below is a snapshot of a conversation I had with Susanne some time last year.  I had intended to put it up on the blog back then, but have only gotten around to it now.
When did you start practicing yoga?
I started practicing a long long time ago, but it was not Iyengar yoga.
My first Iyengar-like Yoga experience came from a used little pocket book I saw in the street of some South American city, I believe it was in Buenos Aires or Santiago – don't remember. It was titled "Yoga for Americans" and is written by "Indra Devi" who was, just like Iyengar a student of Krishnamacharya (I didn't know anything of that, back then…), but I guess she was at Krishnamacharya's a bit later than Iyengar. She was the first woman who Krishnamacharya agreed to teaching yoga –- after first refusing to do so. He was basically forced by the Maharaja of Mysore's wife in whose place he had lived and taught their children for so long. Indra Devi was American from Los Angeles and had developed an early love for India and the films produced there, subsequently she starred in several old movies from that time around the 1930s onwards…
That little book traveled with me and was pulled out each morning when I had to get up and out of our tight bed in our VW camper van in which I traveled with my boyfriend and another friend through South, Central and North America from 1977-1979. We were sort of hippes then…
But each morning I rolled out my woolen blanket when I had found a level patch somewhere near and started with some rounds of Surya Namaskara, then some other poses, but mostly learnt and practiced headstand. Without any wall behind my I just did as she describes in that book, and one day it worked. Don't ask me what that looked like… 😉
Between then and my first time with Iyengar yoga, there were lots of periods when I'd rather dance, Contemporary, Jazz, Brazilian and classic ballet styles alike. But after a while I always returned to yoga, as it seemed to offer something on top of the beauty in bodies moving along with nice music, something deeper. resonating within me with more satisfaction and promising more understanding of whatever there was out there.
On that long way I had many different teachers and went to different yoga centres – Sivananda was the most wide spread in germany at that time, but only in big cities like Munich where I lived for a while, and Frankfurt where I also had a stint for work at television. Nothing in Stuttgart…   Somehow I lost it again and again because either I moved to another place for work or a good teacher changed pathways and went elsewhere.
Until I met an old friend at a jazz club one night who I hadn't seen in a long time. I told me: " I'm doing great, I practice yoga." I was surprised – he didn't seem like a yoga student type to me. He told me he had suffered from migraine all his life and was "out" for a few days each month but had been alright since he started yoga.
I instantly asked him where he went to practice and he told me about this great teacher close to my house, and I was there the next morning… 😉
After those first 90 minutes I walked out and felt my whole body vibrating and lifting up by itself.
That was it for me. I went back for years, up to 3-4 times a week. Until I asked my teacher how I could get deeper into the philosophy of yoga. He recommended a teacher training to explore that.  As I had been teaching at university for many years and was happy being a student, I didn't quite want to go there, but he said I could just do it and then see if I'd really want to teach. So….
What brought you to yoga?
My mat was and is my island – away from my continuous stream of work and my little family back then, and
presently, as someone who recently retired and has all the time of the day to their own disposition, it's more and more to meet with my deeper inner being, experience my breath, and to still these endless movements of my all too vivid mind.
Back then, luckily my young son also had training sessions of sports on some evenings or didn't mind me returning home a bit later, and my partner usually never returned from his office before 7:30pm for dinner anyway, and sometimes I also went in the early mornings, before I went to uni… It was doable. In 2012 I started my teacher training and since then, for me my life has continually developed in an uplifting and creative way, breaking through what had been limits to my life so far, and it's simply great.
I somehow also started teaching just because I really believe in the power of practicing yoga in a multidimensional way and felt an urge to help passing it on to others.
I experience teaching as a most giving process. While I still worked at uni, sometimes I felt really tired when I went to my yoga classes right after returning home in the evening, but after teaching one or two yoga classes, I come out somehow elated and energized. Which is amazing and very fulfilling.
What keeps you going?
Yoga keeps changing my life for the better, my body is healthy, my mind is alive, I feel younger than ten years ago, in some ways at least as far as my energy goes.
With age my body is giving me new challenges with problems in several joint areas. Iyengar Yoga is the best to deal exactly with such issues, and this made me start studying yoga therapy a year ago. It is physio therapeutic work including the aligning, joining and relaxing aspects of yoga.
Yoga helps a lot with another process which comes with getting older, which is much more important than physical ability, I believe.It forces us to look inside ourselves and towards an understanding of our mind's workings.
We overcome new challenges of all kinds with new and never ending confidence about our ability to tackle almost anything by simple continuous practice of asanas and meditation.
And so on…
I worked at the Stuttgart Media University, where I held a professor position for more than 20 years.  Nearly 35 years of facing ever changing media, software and computer systems, the amounts of communication that come along with these jobs simply made me sit, and sit and sit, looking into this square screen, not noticing how time flew away, until my body cried for help.
Plus – my son told me I was hunching forward at the dining table like an old woman (…children usually tell the truth as bitter as it may taste…), and mostly my bones told me I couldn't really get up and walk after long hour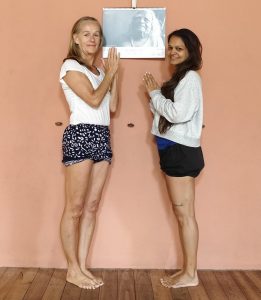 s of computer work –  I HAD to do something….
Why Iyengar yoga for you?
I noticed this was a different kind of teaching. I was told what do with my different body parts, where to put my attention to and what parts to connect or stretch – unlike in other yoga styles where there is no real instruction, just  showing poses with the order: …and now you do it (…which ever way you can…)
There was helpful correction into alignment and I started understanding little by little what yoga really was about.
I could feel the wholeness of my body and its limbs, including my minds workings, and I  understood the ways some parts wouldn't go unless I was shown or told how to do it "right" – after which it always felt like another epiphany, one after the other…
How many times have you been to India?
Only twice in my life – but there will be more… 🙂 I had been scared for a long time, that India would catch me emotionally and I might not be able to bear seeing so much poverty next to utter luxury and not cry out loud…
But now… maybe due to my yoga practice and learnings on Indian history and philosophy I might be able and also want to understand a lot better. I can definitely feel my fascination with India's culture after my only two visits during those last years growing…
The first time was in February 2017 when I flew back from Australia via Delhi to visit an Indian friend who came to visit my partner and me  some years before in Germany. She had invited me to come and meet her family in Delhi, always telling me, if I ever come to India, to come to her house so she could plan all else from there with me.
The whole family was incredibly helpful in answering all my "newbie" questions about their daily rituals, and also the reason for all these  maids in the house who all shared a different kind of mini job. Like one came just to do the dishes, another who actually lived in the house, was presently trained in cooking specials, where to shop for food and what to prepare, yet another came in each day for washing clothes (by hand…) and another one came to clean the house…
Still, my friend seemed utterly exhausted by having to manage all that along with her mother-in-law in whose house they lived.
I thought – WOW,  at home I do all that by myself… plus I raise my kid and have a full-time job…
After 3 or 4 days Delhi I sort of fled to Goa, just to be able to walk and breathe some clean air on an open beach again which I had just left behind in my favourite places in Australia…
But that didn't happen before I explored some really stunning places in Delhi – like the Red Fort, Humayun's Tomb
and I couldn't get enough of the beauty of architecture, harmony, geometry, and the poetry and music which was offered through the audio guides there.
All in all this was a great introduction to one of the biggest cities, rounded by a surprise concert with my favourite Tabla player Zakir Hussein who happened to play a charity concert at my friends' sons' college on my last night there.
Coincidence organized by the universe I like to think.
After about a week in Goa I went to Pune to visit the RIMIY institute for the first time – mainly to find out of I really felt I could go there half a year later for my practice month which I had signed up for already years before.
I had heard all kinds of stories…
I had passed my teacher assessment just 2 years before I went there for the first time, and BKS Iyengar had already passed away by then.
But I was received very friendly, was allowed to go into the big shala to watch a class given by Abhijata and Raya who I had both met before during yoga conferences in Berlin and Basel/Switzerland.
Your favourite aspect of Iyengar yoga?
The unending depth of further explorations into our true being which keeps evolving more and more over the years.Exploring interpretations of the Patanjali Sutras with those more than 2000-year-old insights on the workings of a human brain and how Patanjali mentions bit by bit all the obstacles from simple to complex we as humans are confronted with on a daily basis… then obviously as today: it's the very same phenomena as we experience today what is being discussed there.
Western psychology could have won tons of insights many years ago from these deep Eastern philosophical musings, had it not been largely ignored by Western snobbishness. It's very slowly showing and dawning on the horizon in Western medicine and psychology/psychiatry, thanks to the hard work of a few determined doctors, academics, philosophers and healers alike.