Just got back from Hyderabad this morning.  I stayed with my sister and did my second Go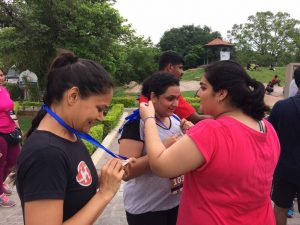 Heritage Run. Spending time with the super fit sis is always amazing.  She's an enthusiastic member of the Hyderabad Runners (they actually helped in organizing the run).  Since it's difficult to find time to run daily, I try and get a run in 2-3 times a week and try to do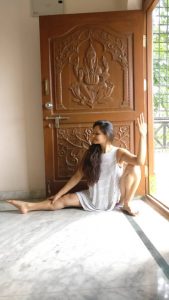 between 5-7 km.  I've already waxed eloquent about the GHR initiative in this video.  If you're a runner, and want to run longer and better, consider adding yoga to your routine a couple of times a week.
A few of you might remember the vlog I did on Bikram yoga a couple of years ago.  My
sister actually goes for Bikram yoga a few times a month and while there I decided to give the style another go.  I honestly didn't think I would make it through the class.  The first time I attended a Bikram yoga class, I lay down after the third asana and told the teacher that I would like to leave .  This time I got through the class without collapsing, throwing up or passing out!  We were famished post class and went to The Waffle House to stuff ourselves with many glorious waffles.
I've been to Hyderabad several times ever since my sister moved there, and this time I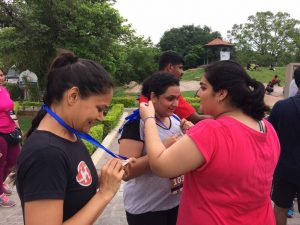 wanted to explore it a bit more.  We had dinner at the Taj Falaknuma.  It was just the kind of experience I enjoy – a tour of the historical palace and sumptuous dinner afterwards.  Taking a cue from a few students, I also dragged my sister for the 'Dialogues in the Dark' experience.  I asked a couple of my friends in Bangalore if they'd like to join me for the experience and their initial reaction was similar to mine – a loud and emphatic NO.  But I recommend the experience, if only to show support for the cause it represents.  Video coming up later this week about that experience.
All in all, my four days in Hyderabad were amazing.  I didn't have to miss my workouts, hung out with my sister, met a few members of the Hyderabad Runners, watched a couple of movies (The Mummy & Bounce) and focused on tweaking this site a bit more.  Back to daily practice and teaching and weekend runs.
On another note, tomorrow is the summer solstice, which also happens to be World Yoga Day.  Every day is yoga day for me, but it's nice that the longest day of the year is also the one to commemorate yoga.