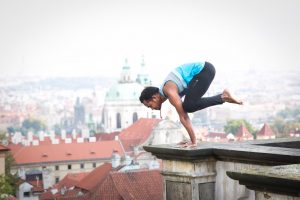 I met Vinay at a dinner organized by someone in the yoga grapevine here in Bangalore.  During dinner I found out that like me, he used to work for Accenture too, and eventually decided to follow his passion.
Vinay also practices acro yoga and is India's only level 2 certified acro yoga teacher.  His personal practice consists of hatha/vinyasa yoga 4 times a week with some yin yoga thrown in 1-2 times a week.  He does yoga nidra/meditation daily
Vinay studied yoga in school with his parents too at home but never with strong focus on asana.  He cultivated an interest in asana as he grew up and become more interested in learning more about the body how it functions and exploring its capabilities.  This also helped bring stillness to the mind.
Although hatha/vinyasa is his primary style or practice and teaching, he continues to explore different styles every now and then.
Find out more on https://www.vinayjestayoga.com/.  Don't miss the awesome videos on the site.