It never ceases to amaze me how old the legacy of yoga in Mysore is.  I'm a sucker for history anyways (the kind that you can see and not just read about) and stories.  A lot of people here have trained with internationally famous yoga teachers, some of who were the first ones to train under Shri Pattabhi Jois.  I am curious to know about the first foreigner who heard about the little man in Mysore who teaches yoga and came in search of him.  At the time Mysore was just Chamundi Hills and the Palace, which probably looked very different from what it is now.  People may have come in through trains and hailed autos.  Auto wallahs might have been surprised to see foreigners (who still seem to be a novelty here.  When we go out, random locals ask for photos.  I discreetly step out of the frame because I know the subject they are interested in.)
KPJAYI has spawned a lot of local industries.  The auto-wallahs who stand outside the Shala, who charge up to Rs. 300 for a trip to the main market while an Ola cab will charge you only Rs. 109.  The coconut guys who are swarmed with people post classes and usually in the middle of the afternoon.  The cafes where you can find avocado salads, vegan food and crepes!  It was a challenge for me to find food that would 'satisfy' me.  I went to Gokul Chaats.  It's been reviewed on Trip Advisor, but I wouldn't recommend it.  However, a small restaurant away from the main road called Sri Durga has the most satisfying and wholesome food.  Ever since I've discovered it, it's become my go-to place for coffee.  The infrastructure isn't great, but the food and service is awesome.
We went to another restaurant today that has been catering to the influx of yogis since the time of K Pattabhi Jois.  'Eat at Nagarathna's' is a small and cozy establishment with close links to the Pattabhi Jois empire.  It's run by Nagarathna and her husband, in their house.  The old shala was close to this house, which is how the earliest students stumbled upon it.  Nagarathna told us that her father-in-law was friends with Pattabhi Jois.  When his student's needed nourishment, Pattabhi Jois would send slips of paper with the dish the student needed (hot pepper soup, dosa, salad) and send the student to Nagarathna's.  This is how some of the earliest students found their way to Nagarathna's table.  And we found ourselves at the very same table.  Those of you who know me know that this is exactly the sort of priceless experience I look for during my travels.  Nagarathana told us stories about some of the earliest students.  I don't know much about Ashtangis, but my friends were delighted about hearing the names of their teachers and also imagining them as young yogis in Mysore, much like what they are now.  Names that clearly stand out in my mind are Tim Miller and Richard Freeman and Eddie Stern.  Nagarathna talks about how all the old Ashtangis used to sit around and enjoy the food and a few also hooked up with each other (she was talking about a couple who were Jois disciples a few decades ago.  I don't remember the names, but they are currently teaching and famous in the Ashtanga community.)
The food was great, your typical South Indian fare.  But what stunned us is Nagarathna's albums of old photos of some of the earliest Ashtangis! She had black and white and colored photographs.  Some were taken in her kitchen, in front of the old shala, in the hotel now known as Regaalis (and was known as Southern Star then), in front of the Mysore Palace…etc.  The album kept us riveted for a long time.  We even took photos of photos!  The picture that enthralled me was an old photo of the guru actually posing for a portrait with his students.  He's sitting on a chair with female students in the front row while the male students stand in the back.  The sides of the picture have been eaten away by age and neglect(?).  I love this picture because I imagine Shri K Pattabhi Jois just like this, surrounded by students he loves, students who perhaps did not even dream that they would travel the globe to spread his word.  The guru with his devoted shishyas.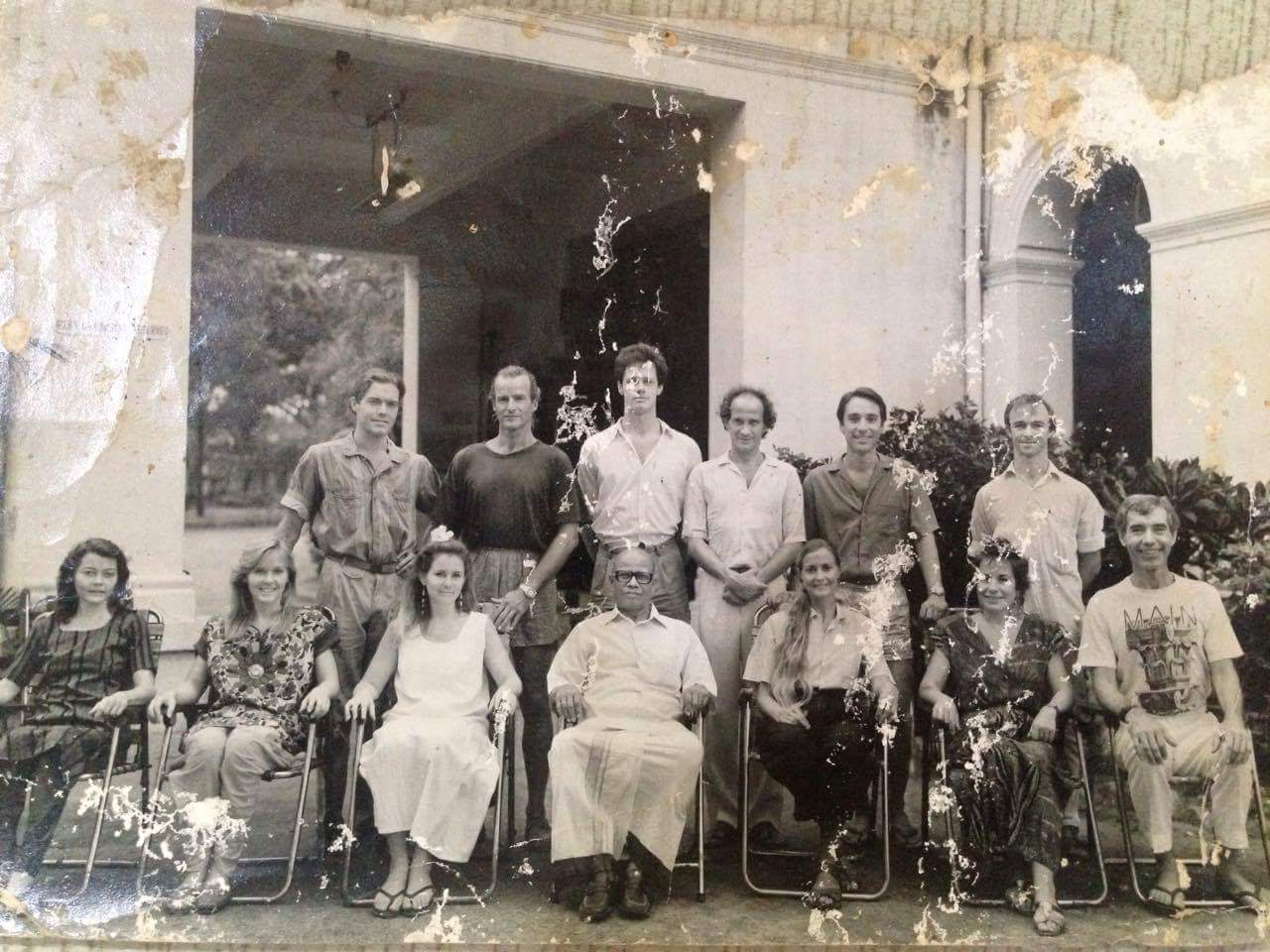 Over lunch we talked about the first foreigner who stepped into this hitherto uncharted territory.  Allegedly, the first foreign student found out through the grapevine that there is a man teaching yoga in Mysore.  He promptly came to Mysore and Pattabhi Jois (the Brahman) refused to touch, much less teach, a foreigner!  Not to be deterred (and with no idea that he was throwing the gates open for future generations of yogis) he sat on Pattabhi Jois's front porch for 3 weeks until the great Guru finally relented.
Everyone decided to head to FabIndia post the lunch (I'm surprised we could lift a finger after the way we stuffed our faces.).  I had some unfinished sightseeing left.  I grabbed a cab to Yadavgiri.  I saw the house, and it's being renovated.  There was a huge padlock on the gate, but there were workers inside.  So I stood on the boundary wall and shouted to the workers, asking them to let me in.  They did.
I read somewhere that RK Narayan's study used to face a huge tree and that he used to stare at the tree when he had writer's block.  There was no tree inside the boundary wall of his house, but there were two right outside.  Maybe, decades ago, when he was living in the house, there was no boundary wall.  Maybe there was no pukka road, but a dirt road running in front of the house.  If that is how it was, then it's believable that he would stare deep into the branches and trunk of the tree for inspiration…
Seeing the house is great, but I still sort of wish I'd managed to see it when it was falling apart.  I would have been able to sense the real character of the house.  However, I will have to settle for coming back next year to see the finished house.
I would also like to mention that I've asked a number of localites about RK Narayan even saying 'Malgudi Days?' in the hopes of a spark of recognition.  But surprisingly, no one has heard of him!  I feel like I'm the only one whose heard of both Shri K. Pattabhi Jois and RK Narayan!
Now the days are starting to really whizz by.  I leave on Tuesday morning after my practice.  I'll be back in Bangalore for lunch.  This morning I glanced through my class schedule for the rest of the year (tried to fit in the Ashtanga classes as well.  I think I will be able to figure something out.).
I'm looking forward to getting back to my classes.  I can already sense that these past two weeks have been incredibly unique and special.  I can feel a paradigm shift in my approach to yoga.  I can't really put my finger on what.  I know these two weeks have given me lots of food for thought, new philosophies, new books…which is bound to change the way I practice and approach my classes.  I guess that's only inevitable when you come to a place teeming with the energy of something so old and powerful.