Download and save this prompt on your phone and use it to do a quick reflection of the year, month or week!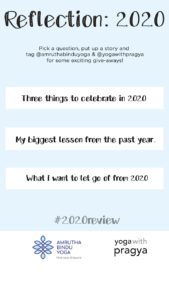 Yoga Nidra by Medha Bhaskar from Amrutha Bindu Yoga
Download this convenient recording for your personal use. Keep it saved on your phone so that you can relax easily and deeply at any time.
Work From Home Practice Tracker
Work From Home Yoga Sequence
A Full Body Yoga Workout (from my YouTube Channel)
Download Video for offline viewing
If you like the above video and want to workout with me anywhere, anytime.. you can download this video for offline viewing. Save it on your phone now!
The Iyengar Yoga Immunity Sequence Checklist
Download this specially curated checklist and pin it up in your practice space to help you with your daily practice.