…and what we learned from it.
December was a month of many parties, and numerous pumpkin-spice lattes for me.  Come January I promised myself to clean up my diet.
Most of us tend to eat mindlessly unless we consciously decide not to.  Dairy and gluten insidiously creep into my plate and down my throat before I can squeak in protest.  I try to go gluten & dairy free every once in a while.  This time I decided to make all 31 days of January about elimination.  I eliminated all food items known to cause inflammation in the body such as gluten and dairy.  The body needs 21 days to completely reset, and I decided to test my willpower and continue the diet for the entire month.
The great thing about being active on social media is that you are always connected to like-minded people.  I didn't want to go on a cleanse alone, and within a couple of days I had 14 people who wanted to join me in my cleanse, thanks to the joy that is Instagram.
Contraband Foods Whilst on the Diet
Below is a list of things forbidden while on the elimination diet.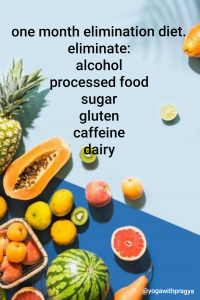 There is much to learn from a month-long experiment such as this one. Below are a few notes from this past month.
I created a WhatsApp group where we discussed everything from dietary switches to recipes to how to stay focused, to the first thing we will eat once the month was over! A support group is imperative.
One of the main concerns was caffeine.  Most of us wake up to an aromatic cup of coffee or tea.  A great alternative we found was sattu in lemon water.  To make a morning drink out of this just mix sattu in a little warm water, add some honey and lemon.  Other alternatives are methi water and ginger-infused warm water.  I stuck to warm lemon water in the mornings, and I think I'll continue this for the rest of 2020.
Many of us switched to chamomile tea, green tea and plain water as an alternatives to coffee.  Hello glowing skin.
We swapped chapattis (gluten) for ragi dosa/besan chilla/jowar roti. Paneer for tofu, rice for milllets, ghee for coconut oil.
Sabudana  khichdi made for an amazing breakfast. As did ragi dosa.
We snacked on makhana, peanuts, and pumpkin seeds.
The sweet tooth was controlled with organic jaggery.
And the results are in…
This past month was great.  We feel leaner, less bloated, more energetic, and many of us have even lost some weight!  Numerous cravings and temptations have been silenced.  We now know how to cook healthier and eat better, even when eating out.  We snack less and drink a lot of water.
Now if only Starbucks can give us more dairy and caffeine free options…
Before I end this blog I need to thank all the people who stayed committed themselves to an experiment most would call crazy.  A huge shout out to Ankit, Chandan, Drupal, Archana, Mamatha, Geetanjali, Suganya, Kakuli…and all the other amazing people who joined in.  Do check out their profiles – they are a bunch of inspiring individuals!