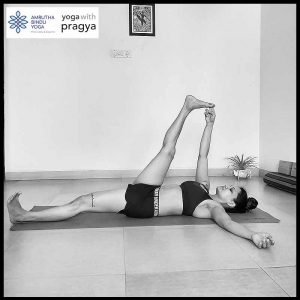 In Sanskrit, supta means 'lying down', pada means '"foot", and angustha is the big toe.  (Yoga the Path to Holistic Health, BKS Iyengar)
Before I started practicing yoga regularly, back pain was something I dealt with frequently.  Whether because of poor posture or because of menstruation, it would just not go away.  Then I discovered the supta padangusthasana and back pain is now a thing of the past.  You can practice this any time and any where.  I sometimes practice this when I'm procrastinating or just too lazy to start a dynamic warm up.  Also, after a whole day of standing because this pose magically stretches out the tiredness.  When I have the luxury of time, I like to work with different variations of this posture while watching something interesting on TV!
The benefits  of the Supta Padangusthasana are:
Aligns the pelvic area thereby relieving backache.
Stretches the hamstrings and calf muscles.
Strengthens the knees and ankles.
Tones and relieves pain from the lower back and spine.
Relieves sciatic pain.
Helps in relieving menstrual pain. (However, don't practice this while you"re menstruating.)
While the picture above depicts the classical asana, I prefer practicing with props.  The below video demonstrates how you can make this asana work better for you with the use of a few props.
Participate in our Work From Home Challenge this entire month and win a giveaway at the end of the challenge.  Download our practice tracker and asana sequence below:
Download Practice Tracker
Download Yoga Sequence
For more information go to:
Medha Bhaskar: https://www.instagram.com/medha.bhaskar/
Amrutha Bindu Yoga: https://www.amruthabindu.com/
Pragya Bhatt: https://www.instagram.com/yogawithpragya/