It's the middle of January and by now it would be pretty clear to you whether you are on track with your fitness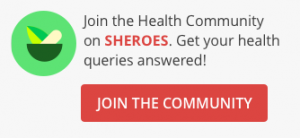 goals or not.  Face it, if you haven't started working out already, then you aren't on track.  Staying on track, smashing your fitness goals, sticking to your New Year's resolutions is easier said than done, and I do understand that.  But I'm also a huge fan of staying on your game with some help.  I find that what helps me is my own personal fitness group.  A group of like-minded people with whom I can discuss fitness related news and ideas and who can answer my queries and give me new insight into my interest.  I feel it's a great idea to cultivate a group of like-minded individuals because it helps you stay motivated.
I recently came across sheroes.com, a platform specifically for women.  I browsed through the site and through its various communities and realized that it's a great platform for women from all walks of life.  There are communities dedicated to writing, for career advice and even for relationship advice!  It's definitely a useful platform where women will feel supported and empowered.  The community that I promptly clicked in to was the 'Health Tips' community and below is what it looks like.
What I really appreciated was the fact that the community was dealing with real questions from real people.  Just like you and me.  You can get advice from your peers about any health problems you are facing, and even tips of what other women have tried and tested.
In addition to this, sheroes.com also has qualified doctors who are on call to respond to medical queries.  This ensures that you're not getting inaccurate or half-baked information.  You have access to expert advice from doctors for a wide range of medical issues.
A more valuable use for this platform is to address personal issues that we sometimes don't have anyone to speak to about.  This is a platform through which you can get answers for intimate queries private and anonymously.  For instance:
Intrigued?  Check out their health community here.
You can also download the SHEROES App here.
SHEROES has really done a good job of coming up with a portal valuable for all women.  It's a one stop destination for any query or advice a woman might need.  They've really proven their words "THINK WOMEN THINK SHEROES" true!
Do check it out and let me know what you think.